Case Studies
Case study #1107
Study Type:
Phase IV Voluntary Patient Registry
Objective:
Predict potential medication error rate as reflected by caregiver reported observations of pharmacists dispensing specialty drug and subsequent administration to patients.
Data Collection:
Written survey recording caregiver observations on prescriptions dispensed.
Utility:
Comply with FDA mandated NDA approval requirement and monitor impact of educations programs designed to improve labeling comprehension and compliance among dispensing pharmacists and reduce associated potential medication errors.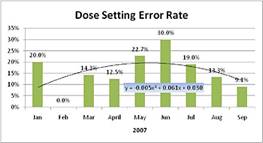 Results:
Dose setting error rate data collected shows sensitivity to company efforts to educate dispensing pharmacists. Registry data indicates programs implemented in June 2007 had a profound impact on dose setting errors, reducing predictable error rate from 30% to 9.1%.